Gold Leaf Estate Planning, LLC
Protecting You Your Family Your Assets
Subscribe to Our Free Monthly E-Newsletter & Blog Digest
Twin Cities Minnesota Estate Planning Lawyers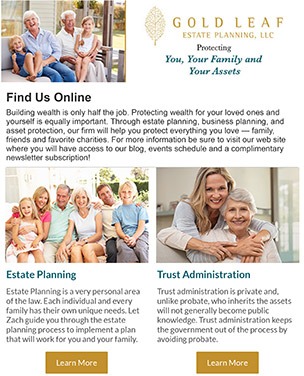 Gold Leaf Estate Planning, LLC
Zach provides excellent personable service rarely found in this era of corporate firms. Clear non lawyer speak to help myself and my wife clearly understand our options as we established our estate plan. Was so impressed, I used Zach to help my aging parents protect their legacy. I highly recommend Zach as you feel like he genuinely cares; not just another number in a "factory like legal" firm.
My wife and I have been setting up our trust and will (along with other stuff like health care directives) with Zach Wiegand over the last month. We finally signed our paperwork today and we cannot be more happy with his expertise and client service. If you need Estate Planning help, look no further!
Really enjoyed meeting and working with Zach for my estate plans. He's a great listener, made sure he understood what my family dynamics are, and offered excellent suggestions and advice. I look forward to a long partnership with Zach and feel at peace that he will be there for my family when they need him.
Had a great experience working with Zachary. My husband and I hired Zachary to establish a Trust and prepare the documentation. He was very professional, open to questions, and had a way of explaining so we understood. We appreciated how flexible he was on finding times it worked for us to meet and would definitely use him in the future.
We had been dragging our feet with getting our wills in order and setting up a trust to make sure our kids are taken care of in the event that something happens to my husband and myself. We just didn't want to think about the worst case scenario. Zach was referred to us by a family friend. He drew up our Family Trust, will and healthcare directives. He was so caring and detailed while helping navigate us thru this process. He helped explain our options clearly and was always available for any questions we had (which were numerous). Even though we didn't want to have to think about worst case scenario- we are so happy we did and now feel at peace knowing that our boys will be taken care of. I've referred two other family members to him so far and would refer anyone else who needed estate planning to him.